INCREASING CUSTOMER ENGAGEMENT AT THE ARCH CAFE AND RAISING AWARENESS OF IT'S IMPORTANCE TO AGE UK LEEDS.

The Arch Cafe is a social enterprise cafe that supports the work of AgeUK Leeds. They initially approached us to simply redesign their menu, but we have gone on to built a close working relationship that has enabled us to make a real difference to them and work directly with AgeUK Leeds.
Advertising, B2B & B2C Marketing, Branding, Exhibition Design, Print Design and Signage.

From the outset it was clear the new menu could work much harder and offered us the opportunity to inform cafe customers that they are directly benefiting older people in the Leeds area, creating sense of community - use the cafe, help people in Leeds. It could also be used to promote the wider offering of the cafe, such as the take out service, outside catering and venue hire.
Limited budget resources meant that every investment had to deliver. The first stage was to refresh and develop their branding by standardising the typography to two key fonts and utilising the colours of the existing logo, which we also enhanced by creating a rebalanced version more suited for use on signage and horizontal formats.

A large format menu, enabling wider accessibility, was complimented by an A4 version which could be handed out or given away with orders for take out. Along side this we went on to create an A5 take out menu flyer showing how to find the cafe. This also had special offer and prize draw promotional flyer attached. A portable pull-up banner was created for use within the cafe and any functions/events they are attending.
Their unique building is both a blessing and a curse. Whilst providing wonderful surroundings the limitations placed on the Grade II listed building creates prohibitive restrictions on permanent signage which has led to a lack of visibility for both the cafe and the AgeUK Leeds offices, despite the busy city centre environment. In order to make the cafe more visible to passers-by and work with the strict limitations of the building we created a series of removable banners, specialist wall wrappings and messaging on feature walls within the cafe that are visible through the large glass facade. These have benefited not only the cafe but also increased the visibility of the AgeUK Leeds offices.
AgeUK Leeds asked us to create a special 40th anniversary logo that could be used across a range of marketing channels and specialised applications such as t-shirts for they AgeUK Abbey Dash charity 10k in Leeds. Working with the established AgeUK brand architecture we have also produced portable pull up banners for use at events.
Fiona Rotheray
| Arch Cafe Manager
AgeUK Leeds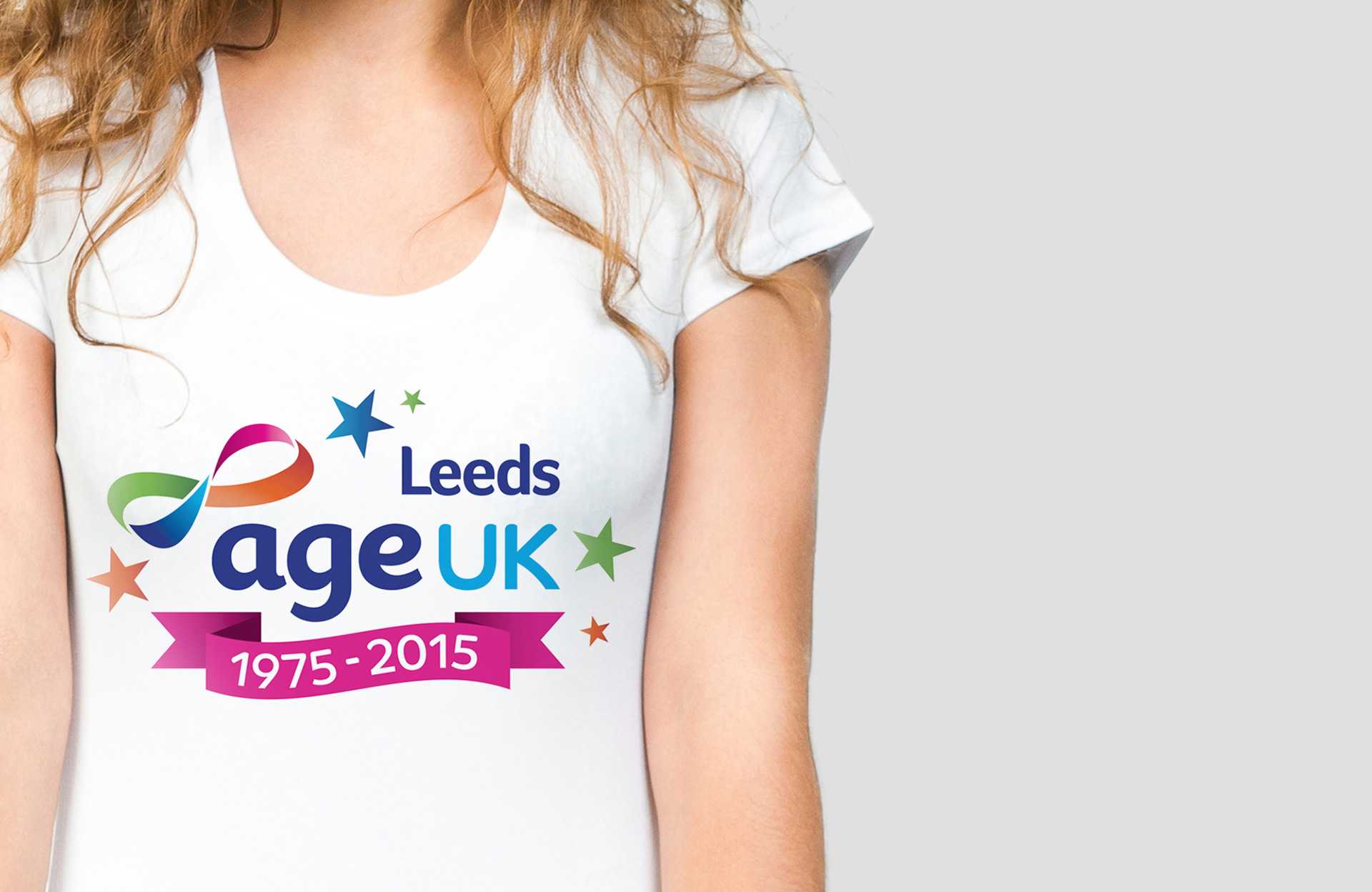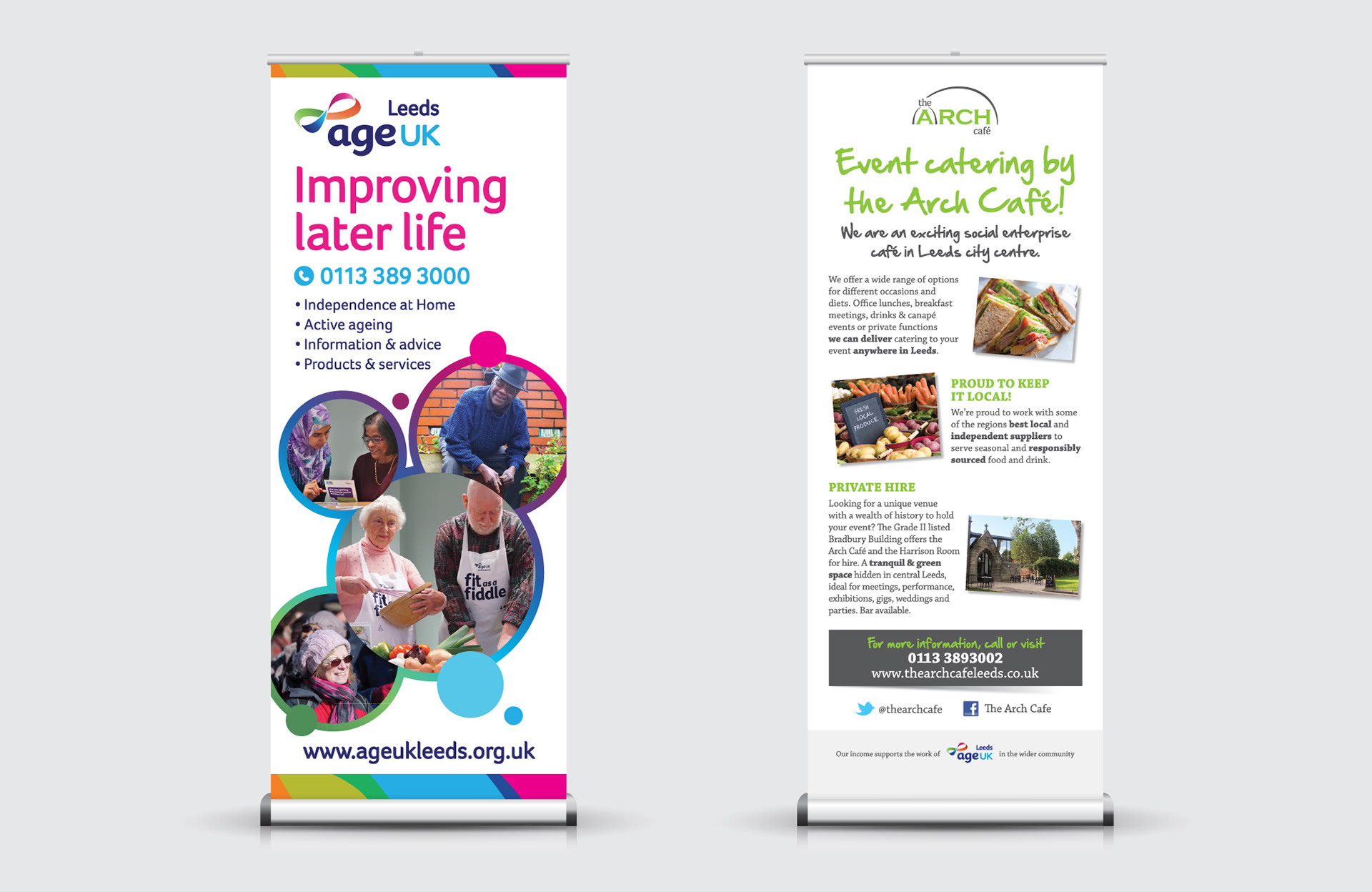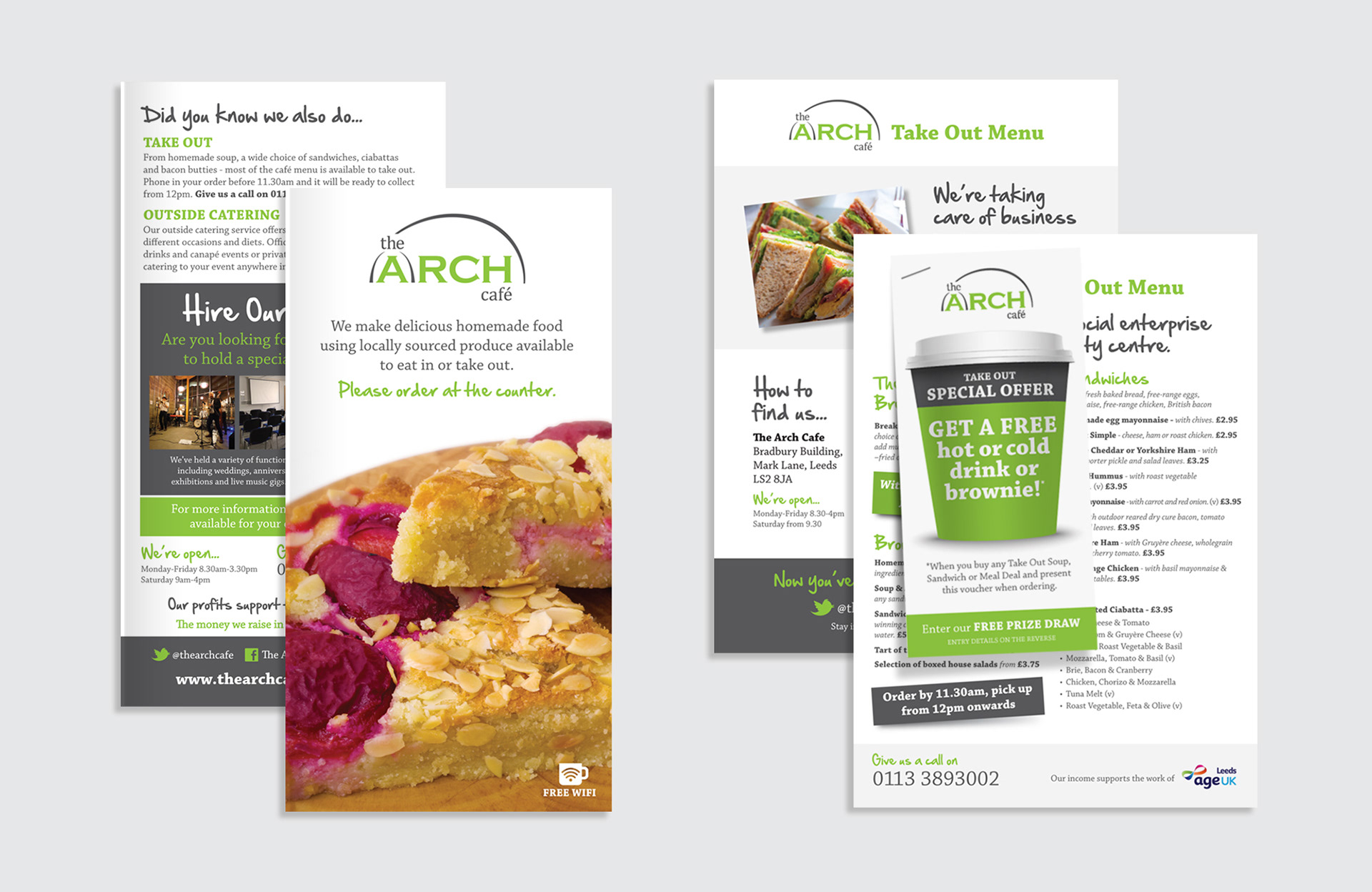 Interior Graphics and Exterior Temporary Banner